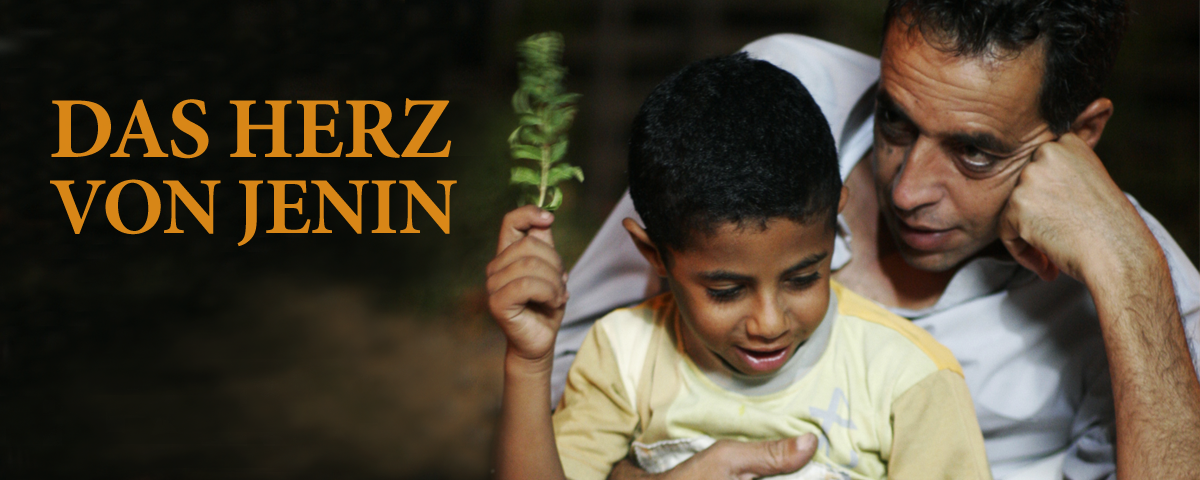 Das Herz von Jenin | The Heart of Jenin
15. Juli 2021, 19 Uhr
online screening

D, ISR 2008, Dok, 89 min, Regie: Markus Vetter und Leon Geller
Sprachen: Englisch, Hebräisch und Arabisch mit englischen UT

Der Dokumentarfilm "Das Herz von Jenin" erzählt die Geschichte des Palästinensers Ismael Khatib. Mit seiner Familie lebt er im Flüchtlingslager Jenin im Westjordanland. 15.000 Menschen wohnen hier auf engem Raum unter schwierigen Lebensverhältnissen. Jenin ist ein politisches Pulverfass, das jederzeit zu explodieren droht, die meisten Selbstmordattentäter, die Anschläge in Israel verüben, kommen von hier.
2005 wird Ismaels 12-jähriger Sohn Ahmed beim Spielen mit Freunden von Kugeln israelischer Soldaten tödlich am Kopf getroffen. Nachdem die Ärzte im Krankenhaus nur noch Ahmeds Hirntod feststellen können, entscheidet Ismael, die Organe seines Sohnes israelischen Kindern zu spenden und damit deren Leben zu retten.
Zwei Jahre später begibt er sich auf eine Reise quer durch Israel, um diese Kinder zu besuchen. Eine schmerzhafte und zugleich befreiende Reise, denn durch die Kinder kommt Ismael auch seinem Sohn wieder ganz nah.

Wir zeigen den Film zusammen mit "Nach der Stille" im Rahmen des Wissenschaftsfestivals "GLOBE21".


15 July 2021, 7 p.m.
online screening

GER, ISR 2008, doc, 89 min, directors: Markus Vetter and Leon Geller
Languages: English, Hebrew and Arabic with English subs

The documentary "The Heart of Jenin" tells the story of the Palestinian Ismael Khatib. He lives with his family in the Jenin refugee camp in the West Bank. 15,000 people live here in a small area under difficult living conditions. Jenin is a political powder keg that threatens to explode at any time; most of the suicide bombers who carry out attacks in Israel come from here.
In 2005, Ismael's 12-year-old son Ahmed is fatally shot in the head by bullets from Israeli soldiers while playing with friends. After the doctors at the hospital can only diagnose Ahmed's brain death, Ismael decides to donate his son's organs to Israeli children and thus to save their lives.
Two years later, he embarks on a journey across Israel to visit these children. A painful and at the same time liberating journey, because through the children Ismael also gets very close to his son again.

We will show the film together with "After the Silence" as part of the science festival "GLOBE21".